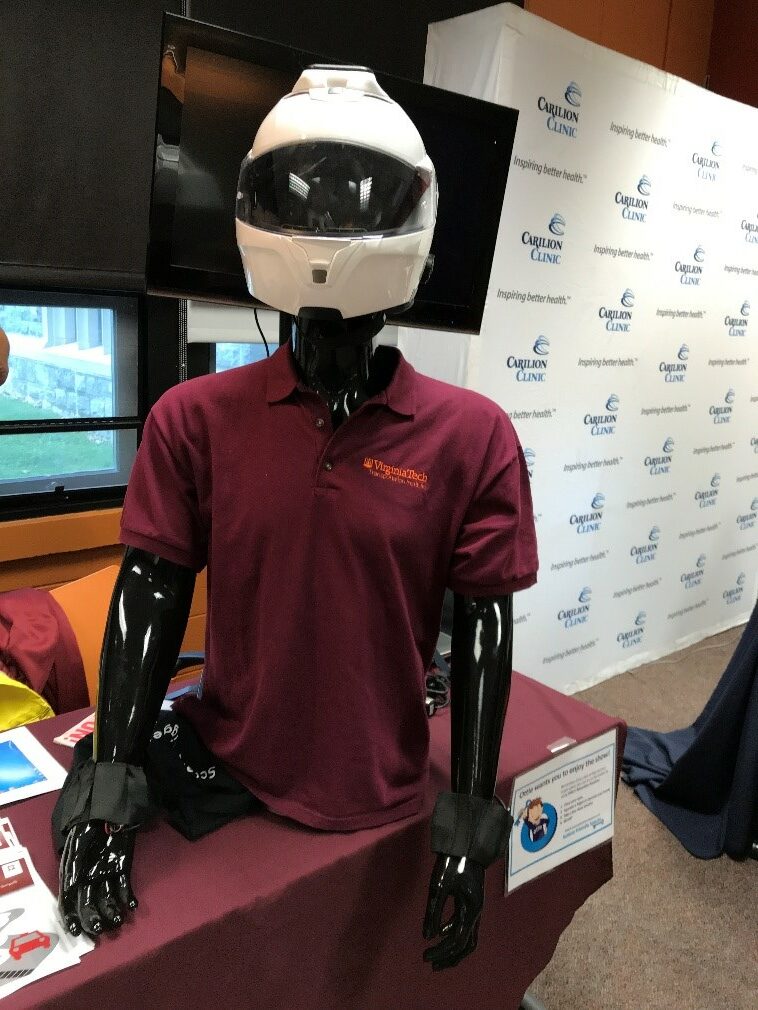 On Saturday, November 4th, the Institute for Creativity, Arts, and Technology (ICAT) at Virginia Tech hosted its 4th Virginia Tech Science Festival.
This event, which attracted over 5,000 people of all ages, showcased different aspects of engineering, science, arts, and design, through demonstrations hosted by a variety of organizations, colleges, and departments at Virginia Tech.
Personnel from the Virginia Tech Transportation Institute (VTTI) hosted a booth called "Transportation in a Disrupted World: Traveling Safe!" which taught festival-goers about transportation safety and current innovations in transportation. Multiple different demonstrations focused around vehicle technology and occupant safety were presented:
Attendees were able to get a closer look at instrumented helmets and wristbands that monitor motorcycle riders and collect real-time driving data. This data is used to gain a better understanding of motorcycle driver behavior so methods can be developed to increase their safety.
"The Mask", a facial recognition software developed by VTTI, was demonstrated. Participants had the opportunity to sit down in front of the camera and have their own face mapped by the software. In addition, they were able to see what aspects of their face were the most important in terms of the facial recognition algorithm.
The importance of retroreflective materials in roadway signs and markers was also presented. Attendees used small, handheld microscopes to see the glass crystals and beads that actually make up roadway signs. They then shined lights onto the different retroreflective materials to see how the different compositions reflected light differently.
In addition to the indoor booth, VTTI also was able to showcase some of their experimental vehicles outside of the building. The Goldwing motorcycle, an instrumented motorcycle used for collecting naturalistic driving data, was showcased. This motorcycle works directly with the motorcycle safety equipment that was displayed in the indoor booth.
Also, the Ford transit vehicle, used in the undercover "seat suit" study, was displayed. Attendees had the opportunity to go into the vehicle and even try on the suit for themselves!