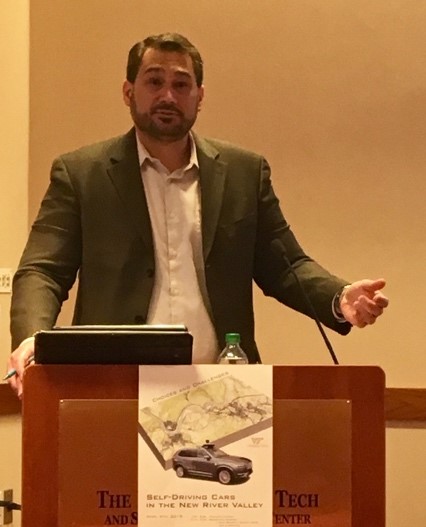 Hosted by Virginia Tech's Department of Science, Technology, and Society on April 4th at the Inn at Virginia Tech, the 2019 Choices & Challenges forum explored the ethical and social issues around self-driving automobiles in the New River Valley region by bringing together the public and internationally-recognized experts.
Moderated by Virginia Tech Transportation Institute's Miguel Perez, the event opened with a technical plenary of industry and academic panelists discussing the opportunities and challenges raised by the emergence of automated vehicles on our roads and in our lives. The discussants for the technical session were:
Chuck Green, Independent Consultant
Michael Avitabile, TORC
Charlie Klauer, VTTI
Andy Schaudt, VTTI
Tammy Trimble, VTTI
Directly succeeding was a series of concurrently-held roundtable discussions exploring questions related to the social/ethical/political/technical issues around self-driving cars.
Session 1 Roundtables:  1) Data security, privacy, maps and algorithms; 2) Equity and social disparity; 3) Regulation, liability, and governance.
Session 2 Roundtables:  1) Mobility and accessibility; 2) Infrastructure: transportation, pedestrians and roads; 3) Values, culture, and choice.
Will Christopher also represented the Safe-D National UTC and Virginia Tech Transportation Institute as a roundtable panelist, informing community and academic leaders on the impact of AV technology in their region as it relates to changes in infrastructure, public transit and active transportation.
A main panel discussion followed, moderated by Lee Vinsel, Assistant professor in Science, Technology, and Society. The expert discussants for the Main Panel session were:
Ronald Arkin

Regents' Professor and Director of the Mobile Robot Laboratory at Georgia Tech. His research interests include behavior-based reactive control and action-oriented perception for mobile robots and unmanned aerial vehicles, robot survivability, human-robot interaction, robot ethics, and learning in autonomous systems.
Meredith Broussard

Data journalist and an assistant professor at the Arthur L. Carter Journalism Institute of New York University. Her academic research focuses on artificial intelligence in investigative reporting, with a particular interest in using data analysis for social good.
Giovanni Circella

The Director of the 3 Revolutions Future Mobility Program at UC Davis, and a Senior Research Engineer at Georgia Tech. His research interests include emerging transportation services, autonomous vehicles, and policy analysis.
Tabitha Combs

Team member at NC State University's Institute for Transportation Research and Education. She has expertise in transport and land use planning, equity impacts of new mobility innovations, and transport planning in developing contexts, with a particular focus on social and environmental impacts of transport policies.
While most automated vehicle thinking has focused on urban environments, the New River Valley's mixture of small town and rural communities offered the forum a unique opportunity for exploring a range of questions and issues. The collective dialogues from the day's discussions formulated the groundwork for the evening's Community Session. The Community Session dialogue was designed to build conversation among community members and local representatives of government and community organizations. Along with interested community members, the following community Stakeholders provided perspectives on AV in the region.
Carol Davis

Sustainability Manager Town of Blacksburg (Previously: Community Outreach Facilitator at New River Valley Planning District Commission)
Kevin Byrd

Executive Director, New River Valley Regional Commission
Lisa Garcia

NSF I-Corps Program Manager: I-Corps is involved with technology transfer from universities and with helping technology-based startups in the DC region.
Tim Witten

ITS Director for Blacksburg Transit