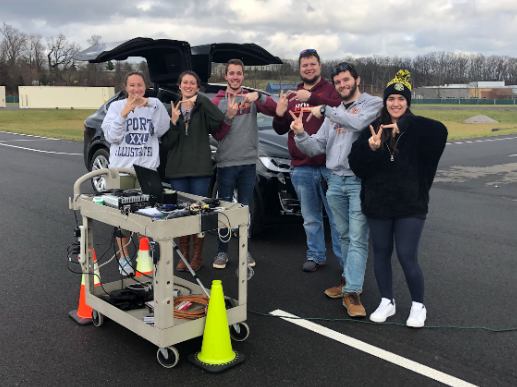 Safe-D students at VTTI/VT have won the title for the North American Region in the Student Safety Technology Design Competition (SSTDC) of the Enhanced Safety of Vehicles (ESV) 26th International Technical Conference.
The conference, sponsored by the United States Department of Transportation, National Highway Traffic Safety Administration (NHTSA) in cooperation with participating ESV member countries, will be held June 10-13, 2019, in Eindhoven, Netherlands. This conference affords researchers the opportunity to showcase innovations in motor vehicle safety ranging from active safety systems to vulnerable road user protection.
Teams of university-level seniors or graduate students submitted a project idea which addressed a vehicle safety priority to the SSTDC. Six teams from each of the three geographic regions were then selected to participate in a regional competition where a panel of safety experts evaluates their designs, and up to three finalist teams per region were then selected to compete at the ESV Conference. After a demonstration of the proposed system to competition judges, a team of students from Virginia Tech were selected on Friday, April 19, 2019 as one of three winners from the North American Region in this competition and will advance to the final, international competition in Eindhoven, Netherlands in June 2019.
The team started out as a group of students in an Advanced Vehicle Safety Systems course taught by Virginia Tech Transportation Institute's (VTTI) Zac Doerzaph. In the class, they were tasked with the challenge of developing a novel safety system to address a motor vehicle safety issue. This academic challenge produced the Pre Rear-End Positioning and Risk Extenuation System (PREPARES), a new system aimed at protecting the occupants of a struck vehicle in the case of an unavoidable rear-end collision. Following the class project, the team chose to continue development of the system under the Safe-D National UTC Student Support Program and ultimately enter the system in the SSTDC.
PREPARES rapidly redirects the occupant's attention in a manner that elicits optimal seating position in the milliseconds prior to impact, mitigating the effects of whiplash and other soft tissue injuries. The system relies on a compact array of sensors to reliably measure the position and velocity of vehicles approaching from behind. An algorithm pre-processes the raw sensor data, determines if the approaching vehicle is a collision threat, and issues a warning by comparing measured distance and velocity to predicted stopping distance. The warning interface consists of salient audible and visual components. The goal is to create a near-automatic human response that repositions the occupant's torso and head into position for impact with the seat and headrest, based on eliciting a strong desire to quickly attend toward the alert.
Click here to learn the results of this competition.
Click here to read more about Safe-D Student Support Project PREPARES Student Support (VT)