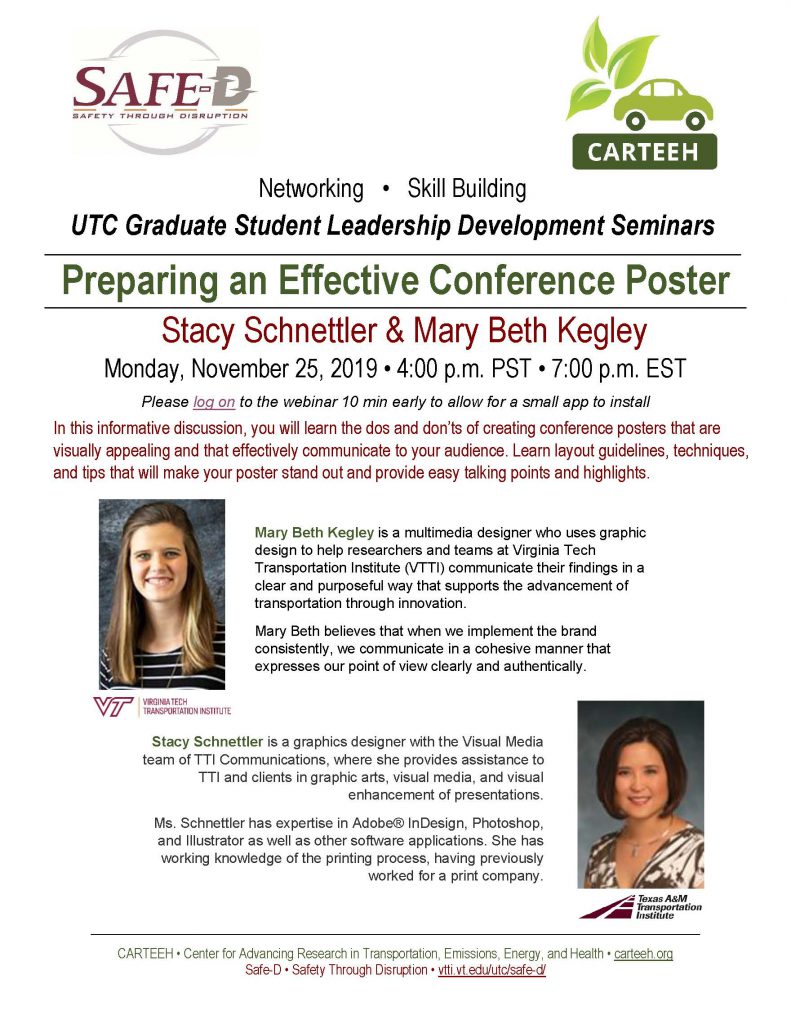 The Safe-D National UTC and Center for Advancing Research in Transportation, Emissions, Energy, and Health (CARTEEH) will be hosting their next Graduate Student Leadership Development Seminar, titled "Preparing an Effective Conference Poster" on Monday, November 25, 2019 (4:00 p.m. PDT; 6:00 p.m. CDT; 7:00 p.m. EDT).

We are pleased to host Virginia Tech Transportation Institute multimedia designer, Mary Beth Kegley, and Texas A&M Transportation Institute graphics designer, Stacy Schnettler, as they present an informative discussion on the dos and don'ts of creating conference posters that are visually appealing and that effectively communicate to your audience. During this webinar, you will learn layout guidelines, techniques, and tips that will make your poster stand out and provide easy talking points and highlights. Please log on to the webinar 10 minutes early to allow for a small app to install.
More information, including meeting locations at Safe-D universities and webinar information available below.
Click Here to view the flyer for this event!
Meeting Locations:
VTTI/VT: online only @ 7pm EDT
TTI/TAMU: Chevron Studio 298 @ 6pm CDT [student networking begins at 5:30pm]
SDSU: TBD @ 4pm PDT
Webinar Recording:
The recording of this webinar is available at the following link: https://youtu.be/M_gDLdeqvwM