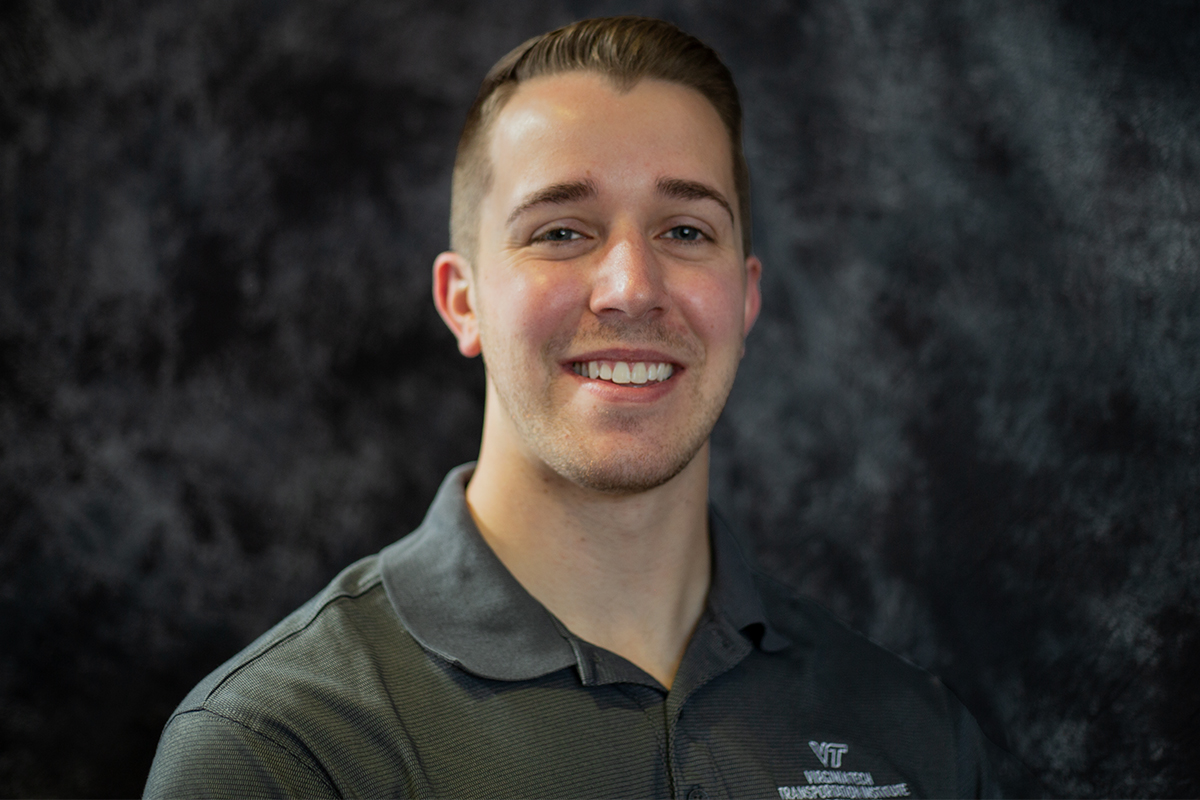 Adam Novotny exemplifies how traditional education supplemented by hands-on work experience is the formula for success. Adam decided to come to Virginia Tech to pursue a doctorate in Biomedical Engineering and Mechanics after earning a B.S. in Mechanical Engineering from The College of New Jersey in 2018. He explains: "By the time I was graduating college, I became interested in applying my mechanical engineering background to improve human safety and I was really impressed by the research conducted at VTTI."
He initially served as a graduate research assistant working for Dr. Zac Doerzaph—who is now VTTI's executive director—which gave him experience working on human factors-related projects, and he completed Virginia Tech's Human Factors in Transportation Safety Graduate Certificate program in 2019.
In January 2022, Adam was hired as a full-time research associate working under Dr. Charlie Klauer in VTTI's Division of Vehicle, Driver, & System Safety. He serves as the lead researcher for two studies focused on improving the safety of e-scooters in addition to supporting several other studies. His responsibilities include project management, communicating with sponsors, conducting literature reviews, writing proposals, designing experiments, running participant sessions, monitoring data quality, reducing and analyzing data, and final reporting.
Adam was the recipient of a University Transportation Centers Outstanding Student of the Year Award in 2021. He reflects on the award in this way: "It really was a surprise and an honor to have been nominated, and even more so to have won it. It was really meaningful to have been nominated by my VTTI colleagues."
In addition, he is the first author on a soon-to-be published paper titled "Concept Development of the Novel Pre Rear-End Positioning and Risk Extenuation System (PREPARES)." In 2019, he and his team won the international title in the Collegiate Student Safety Technology Design Competition of the Enhanced Safety of Vehicles 26th International Technical Conference with this project.
Adam credits the Safe-D UTC with providing him with opportunities to work and lead. Adam says, "The Safe-D UTC has helped fund my research studies since I've been at VTTI. I have been given a lot of freedom in designing studies that not only satisfy the requirements from our project sponsors but also allow me to answer questions that have helped to advance my dissertation research. Through this freedom, I feel that I have grown as a researcher in gaining the ability to independently develop and conduct meaningful research studies."
What advice would Adam have for other students? "Everyone needs to start somewhere, and the only way to become a better researcher is to try to complete tasks on your own but then ask for feedback from other peers, mentors, or advisors in your research area. If you are passionate about the research that you do and you put in the work, you will see improvements in your personal capabilities."
That certainly sounds like the formula for success!