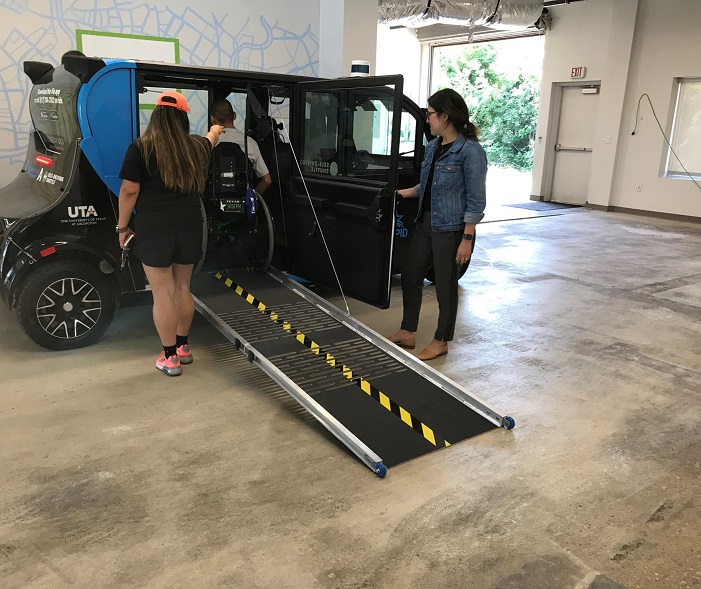 Abstract
Individuals using wheelchairs and those with limited or no sight face extra safety issues in the use of public transit, as well as personal vehicles, including getting to and from a bus or shuttle stop, getting on and off a vehicle, and being secure while riding in a vehicle. The demonstrations of automated shuttles and buses have included little or no participation by the disabled community. This project will address that gap by introducing individuals with disabilities to an automated shuttle in Arlington and a Smart Intersection in College Station, assessing their safety perception before and after riding in the shuttle and navigating the intersection and assessing information on their complete trip. The project will identify improvements in the vehicles, service operations, and the street system and built environment to ensure that individuals with disabilities have equal and safe access to automated shuttles and buses to improve their mobility.
Project Highlights
Final Report
Coming Soon
EWD & T2 Products
Coming Soon
Presentations/Publications
Turnbull, K., (2023, March 28). Automated Shuttles and Buses For All Users. Webinar SafeD Virtual Webinar is available here. PDF of PowerPoint slides from Webinar available here.
Final Dataset
Coming Soon
Research Investigators (PI*)
Katherine Turnbull (TTI/TAMU)*
Jinuk Hwang (TTI/TAMU)
Chris Simek (TTI/TAMU)
Brittney Gick  (TTI/TAMU)
Laura Higgins (TTI/TAMU)
Project Information
Start Date: 2020-01-10
End Date: 2022-05-31
Status: Active
Grant Number: 69A3551747115
Total Funding: $300,000
Source Organization: Safe-D National UTC
Project Number: 05-093
Safe-D Theme Areas
Automated Vehicles
Connected Vehicles
Safe-D Application Areas
Risk Assessment
Planning for Safety
Performance Measures
RiP URL
UTC Project Information Form
Sponsor Organization
Office of the Assistant Secretary for Research and Technology
University Transportation Centers Program
Department of Transportation
Washington, DC 20590 United States
Performing Organization
Texas A&M University
Texas A&M Transportation Institute
3135 TAMU
College Station, Texas 77843-3135
USA