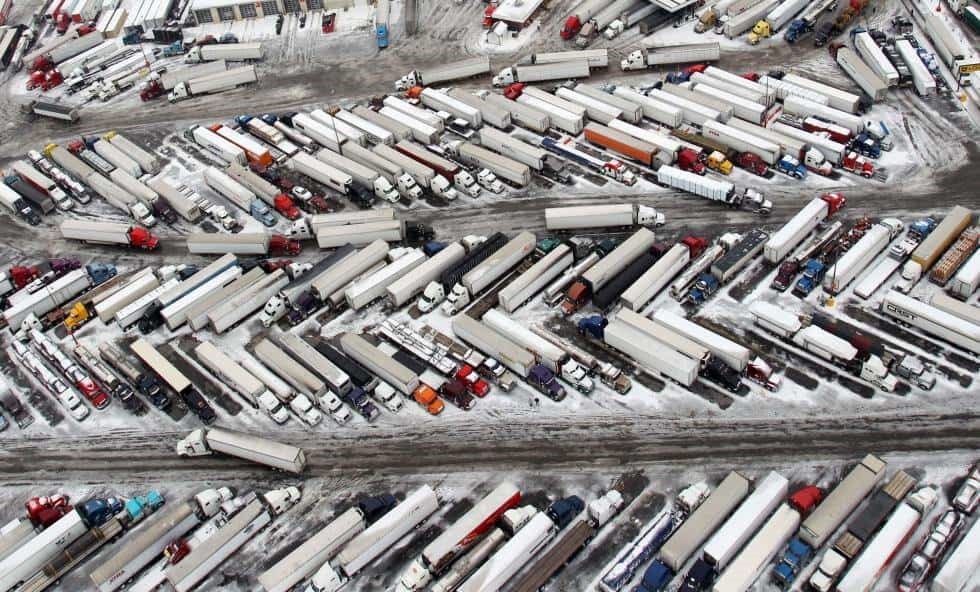 Abstract
Safety issues that stem from commercial truck parking shortages are a national concern. National hours-of-service (HOS) regulations limit drivers' time on the road, in an attempt to increase safety by limiting fatigue; thereby, creating a need for drivers to locate safe, secure, and legal parking wherever they are when or before they hit their limits. In addition, the recent rule mandating the use of electronic logging devices (ELD) to electronically record a driver's Record of Duty Status (RODS), replacing the HOS paper logbooks, further exacerbates drivers' needs to find adequate parking. If drive time is exhausted where there is no nearby truck parking, drivers may park in unsafe or unauthorized locations to meet HOS requirements or they may continue to drive while fatigued. As a result, there are intrinsic safety impacts to all highway users due to large trucks parking in unsafe locations or truck drivers driving past their allotted hours. And, with the projected growth of truck traffic, the demand for adequate truck parking will continue to outpace the supply of public and private parking facilities. The current study will help transportation agencies in developing solutions to the parking availability problem by identifying effective methods for using data to estimate truck parking demand and areas of parking opportunity, assessing available data sources for estimating truck parking demand and supply, and determining the safest connected vehicle (CV) solutions for distributing information on parking availability directly to drivers.
Project Highlights
The research team successfully developed the Truck Parking Demand and Supply Analysis ArcGIS Map for Howard County, Maryland, which can be accessed at https://arcg.is/0rHnGH.
The Guidebook to Evaluate Inadequate Truck Parking and the Summary of Findings PowerPoint provides a high-level overview of how State DOT planners and data analysts can estimate truck parking demand and identify truck parking supply in their respective regions.
The research team submitted a paper summarizing the project findings and results to TRB and the paper was selected for presentation at the 2023 TRB Annual Meeting: Gick, B. N., Parab, S., Katsikides, N., Hwang, W., Lee, D., Rivera Montes de Oca, J., Farzaneh, R., Kong, X., Srisan, T., Bell, S., Alden, A., Warner, J., Romano, H., Schrank, D. (2022). Connected Vehicle Information for Improving Safety Related to Unknown or Inadequate Truck Parking (No. TRBAM-23- 00724).
The project provided funding to four Ph.D. students from Texas A&M and the students were able to learn valuable skills and knowledge that can be used to further their education and careers.
Final Report
EWD & T2 Products
Annotated Inventory of Parking Availability Studies and Related Safety Impacts
Truck Parking Demand and Supply Analysis ArcGIS Map for Howard County, Maryland- https://arcg.is/0rHnGH
Guidebook to Evaluate Inadequate Truck Parking
Summary of Findings PowerPoint
Presentations/Publications
Coming soon!
Final Dataset
The final datasets for this project are located in the Safe-D Collection on the VTTI Dataverse; DOI: 10.15787/VTT1/YRTS1Z.
Research Investigators (PI*)
Nicole Katsujudes (TTI/TAMU)*
Brittney N. Gick
Smruti Parab
William "Billy" Hwang
Dahye Lee
Jose Rivera Montes de Oca
Reza Farzaneh
Xiaoqiang "Jack" Kong
Tat Srisan
Stephen Bell
Andy S. Alden
Jeff Warner
David Schrank
Project Information
Start Date: 2021-05-01
End Date: 2022-07-29
Status: Completed
Grant Number: 69A3551747115
Total Funding: $311,830
Source Organization: Safe-D National UTC
Project Number: TTI-06-01
Safe-D Theme Areas
Big Data Analytics
Connected Vehicles
Safe-D Application Areas
Performance Measures
Vehicle Technology
More Information
Sponsor Organization
Office of the Assistant Secretary for Research and Technology
University Transportation Centers Program
Department of Transportation
Washington, DC 20590 United States
Performing Organization
Texas A&M University
Texas A&M Transportation Institute
3135 TAMU
College Station, Texas 77843-3135
USA
Virginia Polytechnic Institute and State University
Virginia Tech Transportation Institute
3500 Transportation Research Plaza
Blacksburg, Virginia 24061
USA