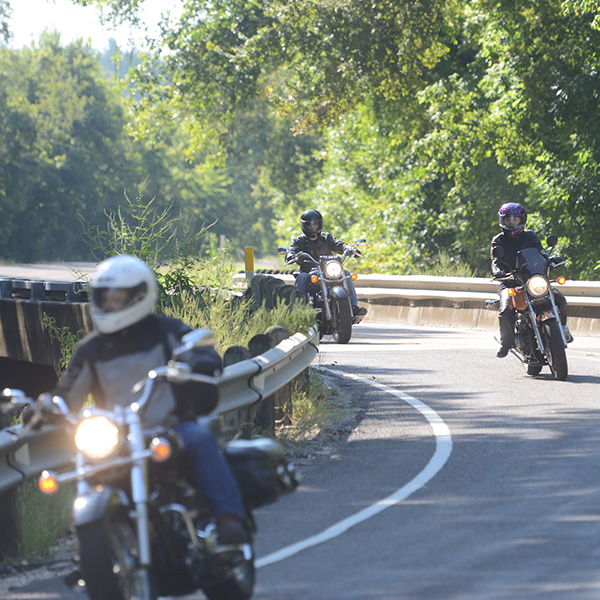 Abstract
This project was intended to review the most relevant national and international studies, as well as protocols and standards that were developed to support motorcycle safety on roadways. In addition, crash data analysis was conducted to identify relevant factors involved with motorcycle accidents where the bike has impacted roadside safety barriers on flyovers/connectors or on curves. This crash data review was developed in support of an existing research project sponsored by the Texas Department of Transportation, which aims at identifying and testing retrofit options for existing concrete barriers to contain errant motorcycle occupants during an impact event.
This UTC project provided the ability to perform detailed research and data investigation complementing an existing TxDOT project (490027-3 – internal #). The funded TxDOT project aimed at exploring design options for a retrofit concrete barrier system to be deployed at appropriate bridge locations to address errant motorcycle rider's safety. The objective of this project includes the design, development, and evaluation through computer simulations of an improved retrofit barrier system(s) that has the capability to safely contain errant motorcycle riders during an impact event.
Project Highlights
Provided a comprehensive compilation of international existing standards and protocols on motorcycle testing against roadside safety barriers.
Reviewed current practices of retrofitting existing roadside safety systems to enhance motorcycle rider safety.
Offered a preliminary understanding of the prevalent factors involved in fatal and suspected serious injuries of one motor vehicle motorcycle crashes involving flyovers, connectors and curves.
Final Report
TTI-Student-04 Final Research Report
EWD & T2 Products
T2 Presentation (pptx): The project team created a presentation based on the results of this research.
Student Impact Statement (pdf): Two students were funded under this project (Heather Sulaica and Jonathan Wilson from TAMU, both undergraduate students). This file contains a statement of the impact this project made on these students' education and workforce development.
Presentations/Publications
Coming Soon!
Final Dataset
The final datasets for this project are located in the Safe-D Collection on the VTTI Dataverse; DOI: 10.15787/VTT1/GCERVA.
Research Investigators (PI*)
Chiara Silvestri-Dobrovolny (TTI/TAMU)*
Heather Sulaica (TAMU)
Project Information
Start Date: 2017-07-01
End Date: 2017-08-31
Status: Active
Grant Number: 69A3551747115
Total Funding: $
Source Organization: TxDOT, Safe-D National UTC
Project Number: TTI-Student-04
Safe-D Theme Areas
Safe-D Application Areas
Infrastructure Technology
More Information
RiP URL
UTC Project Information Form
Sponsor Organization
Office of the Assistant Secretary for Research and Technology
University Transportation Centers Program
Department of Transportation
Washington, DC 20590 United States
Performing Organization
Texas A&M University
Texas A&M Transportation Institute
3135 TAMU
College Station, Texas 77843-3135
USA