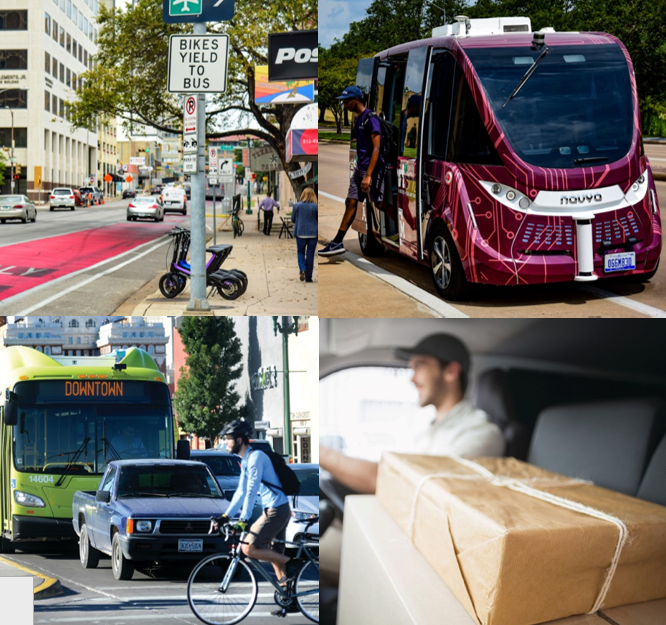 Abstract
Curbside access has been a growing concern in cities over the last decade as on-demand passenger or goods transportation services have proliferated. Increased activity at key loading and unloading points may increase the risk of crashes and collisions between vehicles or with nearby active travelers as vehicles maneuver to access curbside spaces and others maneuver around them. This research project investigated linkages between curb management practices and safety among travelers as vehicles navigate to and from designated curb zones within a multimodal urban environment. The project analyzed the effectiveness of curb management practices in improving safety through reduced collisions between vehicles and other travelers. The project also investigated existing curb management practices across the United States to understand safety considerations and related perspectives of cities, community stakeholders, and industry organizations. The team collected video data of curbside zone utilization in Roanoke, Virginia, and synthesized observed interactions for analysis of a small city curbside zone site. The results include interview and focus group discussions on curb management and safety considerations as well as a discussion of the approach and method for primary data collection in measuring curbside safety.
Project Highlights
The project report highlights key findings on curbside management and safety issues from interviews with city transportation staff members, community stakeholder organizations, and private industry, along with findings from focus groups with local business vehicle drivers, business owners near curbside zones, and local travelers in two case study cities.
The report includes an analysis of primary data collection at a curbside zone in Roanoke, VA to examine the utilization of the zone spaces and potential conflicts between the zone vehicles and pedestrians or other vehicles that occurred on video recordings.
The dataset product from this research includes all recorded observations of the curbside zone studied using a coding method specific to the project. The dataset captures zone use by vehicles, perceived purposes of curbside access, types of safety issues observed, degree of danger for potential conflicts, and groups of pedestrians or other active travelers possibly contributing to safety conflicts in the area.
The PowerPoint slide deck summarizes the work performed for the project.
The additional Brief on Curbside Safety Considerations resource provides a summary of best practices on curbside management with respect to safety based on expert interviews with several public and private practitioners in transportation and parking management around the U.S.
Final Report
EWD & T2 Products
Brief – A document summarizing best practices from research findings.
Database – The final dataset developed from this project work.
Final Report – The report documents the work performed, models and results, lessons learned, conclusions, and recommendations.
PowerPoint slide deck – The presentation will be used to summarize the work performed, the results of the analysis, and explain how database can be used to similar analyses.
Presentations/Publications
Alden, Andy. (2021) Curbside Management and Pedestrian Safety. Transportation Research Board Annual Meeting – Pedestrians and Autonomous Vehicle Interactions Subcommittee [ACH10(3)], 1/5/21, Washington, DC.
Final Dataset
The final datasets for this project are located in the Safe-D Collection on the VTTI Dataverse; DOI: 10.15787/VTT1/VKYONX.
Research Investigators (PI*)
Todd Hansen (TAMU/TTI)*
Andy Alden (VT/VTTI)
Nick Wood (TTI/TAMU))
Zhiheng Hu (TTI/TAMU)
Zach Elgart (TAMU/TTI)
Stephen Bell (VT/VTTI)
Project Information
Start Date: 2021-01-01
End Date: 2022-11-30
Status: Active
Grant Number: 69A3551747115
Total Funding: $175,000
Source Organization: Safe-D National UTC
Project Number: 05-096
Safe-D Theme Areas
Safe-D Application Areas
Risk Assessment
Vulnerable User
Planning for Safety
Infrastructure Technology
Vehicle Technology
Freight and Heavy Vehicle
More Information
Sponsor Organization
Office of the Assistant Secretary for Research and Technology
University Transportation Centers Program
Department of Transportation
Washington, DC 20590 United States
Performing Organization
Texas A&M University
Texas A&M Transportation Institute
3135 TAMU
College Station, Texas 77843-3135
USA
Virginia Polytechnic Institute and State University
Virginia Tech Transportation Institute
3500 Transportation Research Plaza
Blacksburg, Virginia 24061
USA