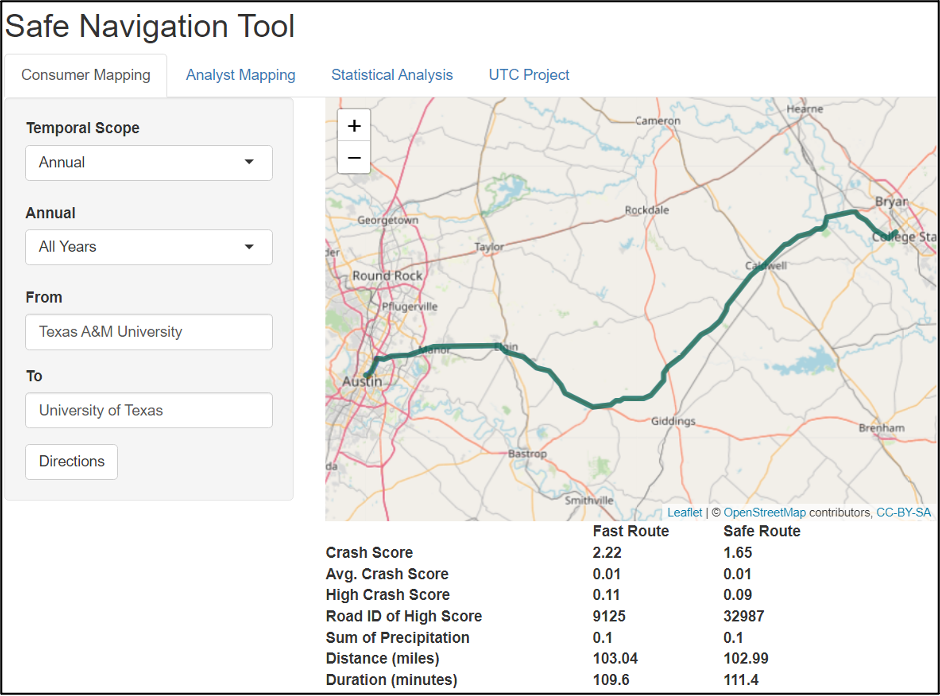 Abstract
Traffic crashes are a leading cause of death in the United States. The conventional safety evaluation methods incorporate safety modeling to determine the risk scoring of the roadways and provide these risk maps in non-reproducible format. For roadway users, these risk maps are not usable in their daily roadway trips.  On the other hand, popular navigation applications such as Google Maps and Apple Maps provide distance-based or travel time-based alternative routes with no real-time risk scoring. There is a need for a real-time navigation system that can provide data-driven decision on the safest path or route. Obtaining data from several historical and real-time data sources, the user interface of the tool or application can provide the safest navigation decision by examining several scorings such as safety, distance, travel time, and overall scoring. Conducting safety prediction by using multiple big data sources, AI-driven algorithms perform better than conventional statistical models. This study aims to conduct a unique contribution by developing a robust, AI-driven, safe navigation tool, which can provide an informed decision of the safest route instead of providing several uninformed decisions offered by the current navigation tools.
Project Highlights
Coming Soon!
Final Report
EWD & T2 Products
Coming Soon!
Presentations/Publications
Coming Soon!
Final Dataset
The final datasets for this project are located in the Safe-D Collection on the VTTI Dataverse; DOI: 10.15787/VTT1/AL4C8V.
Research Investigators (PI*)
Subasish Das (TTI/TAMU)*
Xinyue Ye (TAMU)
Ioannis Tsapakis  (TTI/TAMU)
Soheil Sohrabi (TTI/TAMU)
Darren Torbic (TTI/TAMU)
Yanmo Weng (TTI/TAMU)
Shoujia Li (TTI/TAMU)
Project Information
Start Date: 2021-08-15
End Date: 2023-07-31
Status: Active
Grant Number: 69A3551747115
Total Funding: $349,970
Source Organization: Safe-D National UTC
Project Number: 06-002
Safe-D Theme Areas
Big Data Analytics
Automated Vehicles
Transportation as a Service
Safe-D Application Areas
Performance Measures
Planning for Safety
Risk Assessment
More Information
RiP URL
UTC Project Information Form
Sponsor Organization
Office of the Assistant Secretary for Research and Technology
University Transportation Centers Program
Department of Transportation
Washington, DC 20590 United States
Performing Organization
Texas A&M University
Texas A&M Transportation Institute
3135 TAMU
College Station, Texas 77843-3135
USA