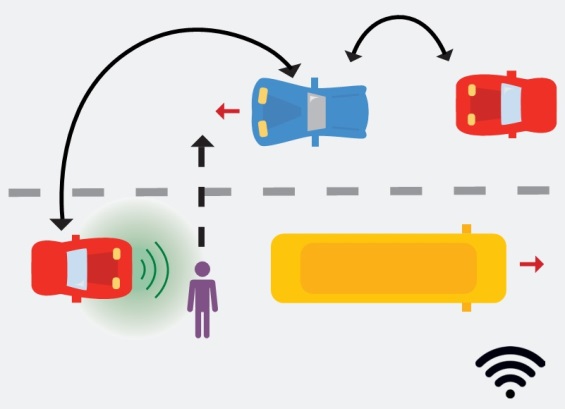 Abstract
This project develops vision-based cooperative perception and accident (crash) avoidance trajectory plans in dynamic environments for two connected vehicles in which the ego vehicle would face a potentially unseen hazard ahead but could receive safety-critical information from a vehicle in front and estimate/predict the trajectory of the potential hazard. There are several challenging technical problems in this V2V and V2X communications environment, aside from the communication itself. Among them are the accurate establishment of the relative position of the involved vehicles and their collective situation relative to the target (which could be a vulnerable road user or another vehicle); the decision of what constitutes a safety-critical information/data and when and how to pass (exchange) them with the ego vehicle to be beneficial for safety; passing of only safety-critical data and trajectories without having to pass extensive video data between two cooperating partners (vehicles), and how to best determine the final trajectories of the ego vehicle and the corresponding cooperating vehicle in order to avoid a potential/imminent collision with the target. To address these challenges and questions, a combination of algorithms and approaches will be developed based on probabilistic random trees (or similar) approaches and other intelligent algorithms to find the optimum ways of cooperating among the two vehicles and defining their forthcoming safe trajectories. The results will be tested in a traffic emulation environment with autonomous connected mobile robots. The methods and approaches will be equally applicable to real-life full vehicles upon further development and testing.
Project Highlights
Coming Soon!
Final Report
Coming Soon!
EWD & T2 Products
Coming Soon!
Presentations/Publications
Ghorai, P, Eskandarian, A., Kim, Y.K., and Mehr, G. "State Estimation and Motion Prediction of Other Vehicles and Vulnerable Road Users for Cooperative Perception Based Autonomous Driving: A Survey," in IEEE Transactions on ITS, 2021.
"Wu, X., and Eskandarian, A., "Motion Planning of Autonomous Vehicles Under Dynamic Traffic Environment in Intersections Using Probabilistic RRT," in SAE International Journal of Connected and Automated Vehicles,
2021."
Sun, C., and Eskndarian, A., "Predictive Frontal and Oblique Collision Mitigation System for Autonomous Vehicles," ASME Dynamic Systems and Controls Letters, accepted, Feb 2021.
Research Investigators (PI*)
Azim Eskandarian(VTTI)*
Prasenjit Ghorai (VTTI/VT)
Project Information
Start Date: 2020-10-01
End Date: 2023-05-10
Status: Active
Grant Number: 69A3551747115
Total Funding: $290,895
Source Organization: Safe-D National UTC
Project Number: 05-115
Safe-D Theme Areas
Automated Vehicles
Connected Vehicles
Safe-D Application Areas
Vulnerable Users
Driver Factors and Interfaces
Vehicle Technology
More Information
RiP URL
UTC Project Information Form
Sponsor Organization
Office of the Assistant Secretary for Research and Technology
University Transportation Centers Program
Department of Transportation
Washington, DC 20590 United States
Performing Organization
Virginia Polytechnic Institute and State University
Virginia Tech Transportation Institute
3500 Transportation Research Plaza
Blacksburg, Virginia 24061
USA