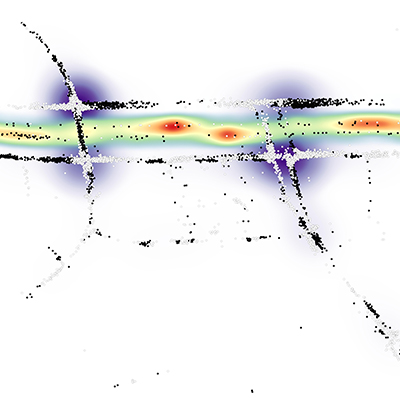 Abstract
Phase I:
Today's connected vehicles have an abundance of electronics and sensors that can passively collect data on driving behaviors, mechanical status, and physical roadway conditions. These data can potentially help safety professionals better understand relationships between driving events and risk. This project will explore roadway safety applications of connected vehicle data provided by Wejo for July and October 2019 for the entire state of Texas. Wejo is a connected vehicle data vendor that aggregates data from automotive manufacturers and then licenses its use to customers. The Wejo data consist of vehicle movement data with 3-second waypoint frequency and driver event data for individual vehicle trips. From these, this project will look at actual travel speeds, seat belt usage, harsh braking/acceleration by date/time, location, and vehicle year/make/model. Crash data will be spatially related to driving events to explore possible statistic relationships between driving events/behavior and crash risk.
Phase II:
A cloud computing system of services and spatial algorithms were designed and developed to process the very large amounts of connected car (CC) data from Wejo to develop model variables, visualizations, and descriptive statistics. This research seeks to leverage those methods to explore the unanswered question of whether commercially available CC data derived from automotive OEMs can be used for roadway safety applications. The idea is that if leading crash risk indicators can be developed from CC data, then areas of safety concern can be detected before crashes occur, thereby saving lives, time, and resources. Some major automotive OEMs have developed tools to access and visualize the data generated by their CCs but are still lacking the ability to provide risk-based conclusions. This project will evaluate the effectiveness of commercially available CC data in roadway safety applications. We will comprehensively explore the relationships between driving behaviors and different severity crash events. An innovative big data analytic framework will be developed to analyze this emerging safety data.
Project Highlights
Coming Soon!
Final Report
Coming Soon!
EWD & T2 Products
Coming Soon!
Presentations/Publications
Coming Soon!
Research Investigators (PI*)
Michael Martin (TTI/TAMU)*
Shawn Turner (TTI/TAMU)
Xiao Li (TTI/TAMU)
Eva Shipp (TTI/TAMU)
Lingtao Wu (TTI/TAMU)
Sophia Stutes (TTI/TAMU)
Xinyue Ye (TTI/TAMU)
Project Information
Start Date: 2020-02-01
End Date: 2023-08-01
Status: Active
Grant Number: 69A3551747115
Total Funding: $344,550 (Phase 1: $75,000 Phase 2: $269,550)
Source Organization: Safe-D National UTC
Project Number: TTI-05-01
Safe-D Theme Areas
Big Data Analytics
Connected Vehicles
Safe-D Application Areas
Planning for Safety
Risk Assessment
Operations and Design
Infrastructure Technology
More Information
RiP URL
UTC Project Information Form
UTC Project Information Form Phase II
Sponsor Organization
Office of the Assistant Secretary for Research and Technology
University Transportation Centers Program
Department of Transportation
Washington, DC 20590 United States
Performing Organization
Texas A&M University
Texas A&M Transportation Institute
3135 TAMU
College Station, Texas 77843-3135
USA